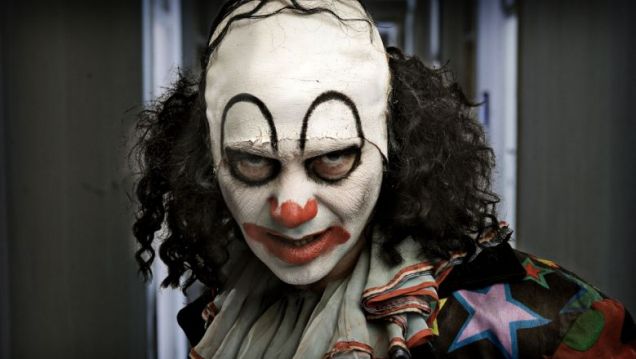 When I look back on the television shows and pop culture that influenced me as a child of the 90s, there are a few things that spring to mind. The offbeat comedy of Vic Reeves and Bob Mortimer, certainly. The snappy catchphrases of Harry Enfield and The Fast Show definitely had an impact on my idiot child brain.
But there was nothing quite so influential as The League Of Gentlemen. No, not Sean Connery. There is only one League, and it happens to include Mark Gatiss, Steve Pemberton, Reece Shearsmith and Jeremy Dyson. You may recall I raved about Inside No. 9 last year, a show written by Reece and Steve after League reached its inevitable conclusion after three brutally dark series. Well, Inside No. 9 simply wouldn't exist without another show coming before it. This show, also written by Reece and Steve, is, in my opinion, the gold standard in character led comedy. Its twisted sense of humour exists in a world all of its own, and yet, no one seems to have seen it. The show I'm referring to, of course, is Psychoville.
I can't judge. For a few years back there, I don't think I even owned a television, let alone spent any time watching the damn thing. It was only on a chance encounter that I stumbled onto the Psychoville Halloween Special, and, for a lack of anything else to watch – decided to jump in, despite it technically existing between its two series. Luckily for me, it told its own story, and, for want of a better word – was phenomenal.
Like many Halloween specials before it, the Psychoville Halloween Special is an anthology episode, telling several stories as part of a larger framework. As such, I will briefly run through each of these twisted tales to give you a vague idea of the complete work, but if you want to experience it yourself, I urge you to go ahead and watch this series. It's truly a hidden gem.
So What Happens?
Haunted by the memory of an encounter with the twisted, evil Nurse Edwina Kenchington (Eileen Atkins) at Ravenhill Psychiatric Hospital – a mental institution and glorified torture facility – a young man that goes by the name of Drew (Alex Waldmann/Matthew Fenton) drags himself to the old ruins of the hospital to meet Phil Walker (Reece Shearsmith), a desperate researcher for Dale Winton's Overnight Ghost Hunt.
As the two break into the old building, Drew recounts his experience breaking into Nurse Kenchington's office as a dare, before he is caught in the act and forced to listen to a tale of woe designed to chill him to the bone.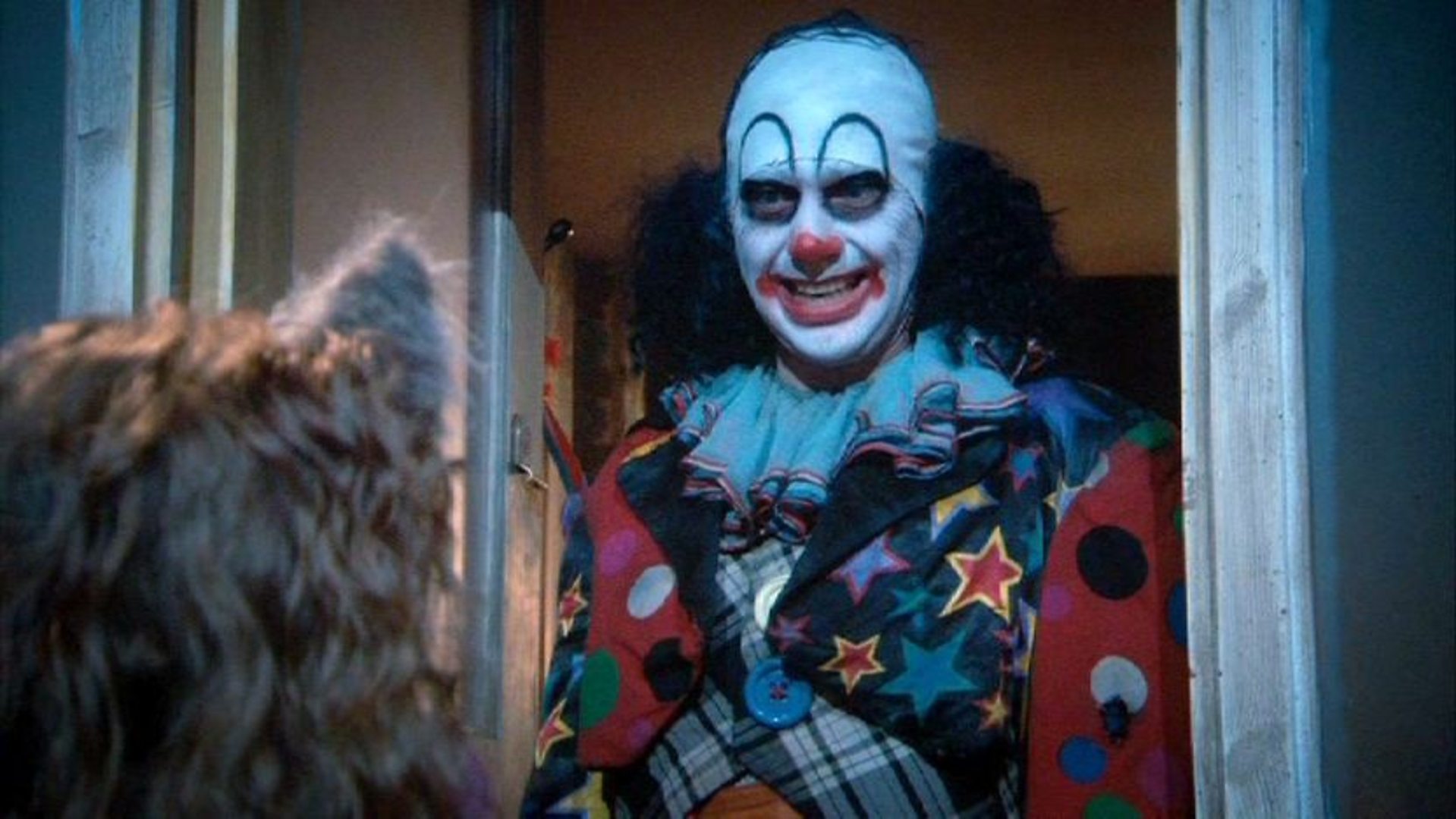 The story, incidentally, casts series regular Mr Jelly (Reece Shearsmith) in the role of a disgruntled, bitter old man on Halloween. As a clown by trade, he is understandably upset by people having so much fun dressing up when he is forced to every day. He shoos away every trick or treater that comes his way, disturbing his night of eating chocolate and watching The Exorcist and The Exorcist III (he won't bother with The Exorcist II – it's shit). Mr Jelly is enjoying the treats, with none of the tricks.
That is, until a pair of disturbingly silent trick or treaters arrive at his door. He slams the door on them, but that isn't the end. He begins to see visions of the pair on the television, with his chocolates seemingly infested with cockroaches. After a disturbing telephone call, Mr Jelly's final treat of the evening becomes a disturbing trick. Desperate for an end to it, Mr Jelly runs into the street – desperate to make amends with the mysterious pair of costumed children…
Drew and Phil continue to wander the halls of the hospital. Thanks to a fat girl with an NVQ in Media Studies, Phil recounts a vague interpretation of how one of the hospital's former patients, Joy Austin (Dawn French), came to be a guest at the Ravenhill Hospital.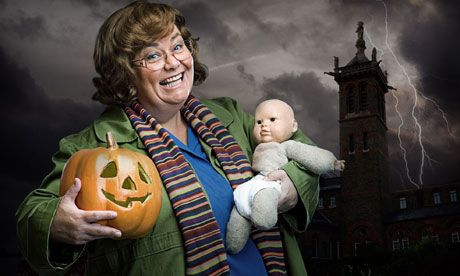 Somewhere in Bristol, Joy's husband George (Steve Pemberton) is desperate to sell their house. It's a struggle, however, as the house is never tidy – full of children's toys and mess, a result of Joy's baby, Freddy. The twist of the knife, however, is that Freddy isn't real. Freddy is a doll. After George lays down the law, Joy is desperate to keep him happy – tidying the house overnight. After a genuinely laugh out loud segment involving the recycling boxes, George makes it clear to Joy – the house must remain spotless until the next potential buyers have seen the property.
Sounds simple, but Joy has a nasty habit of getting overexcited. Noticing that it is Halloween, Joy spends the day painting, carving pumpkins and decorating the house. When George arrives and finds the mess, he loses it. Were it not for a freak mishap on his way out, things may have ended well… Oh, well. At least he'll bring some festive cheer to the room.
As Drew points out, it is, of course, nonsense. Hearing a noise deeper in the building, the pair set off as Drew begins to tell another tale.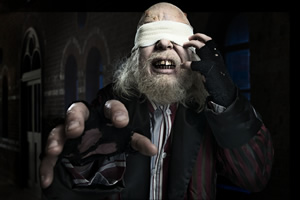 Oscar Lomax (Steve Pemberton) is a blind man with many hobbies. His main one, however, is collecting. Having just had an operation to replace his eyes and regain his sight, he is pleased when his assistant Tealeaf (Daniel Kaluuya) arrives with his latest acquisition – a priceless Gollywog, much to Tealeaf's discomfort.
Later that night, Lomax removes his bandages to find his fallen doll, and is stunned to find that the operation worked – he can see again! Except, it isn't just the world he can see. Peering through his blurred vision, Lomax is terrified to see an old Japanese woman (Pik Sen Lim) staring back at him in the mirror – screaming! The next day, he sees a strange man watching him, a strange man that no one else can see. The question is, who did his new eyes belong to, and is it possible he is seeing a memory live out before his very eyes?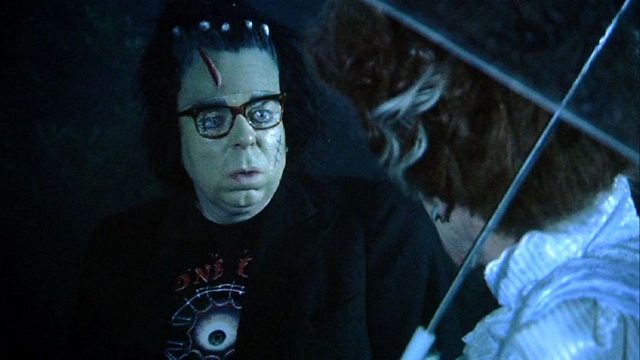 Returning to Drew, he goes into further detail about the time Nurse Kenchington introduced him as a child to David Sowerbutts (Steve Pemberton). Asking David what he might be thinking about, he goes on to describe an imagined tale of him and his mum, Maureen (Reece Shearsmith) stuck on the side of a road after a costume party. David, as fans of the regular series will know, is extremely knowledgeable about serial killers and, when the pair are picked up on the side of the road by a sinister looking man and his unconscious wife, things start to get sinister – fast.
Suspecting they are sharing a car with the so-called Stonewall Slasher, David begins to panic, and gets out of the car as soon as he can. The man, however, drives away with Maureen in the back of the vehicle. But is this man as guilty as he seems, or is there a far more sinister plot afoot?
The framing story then expands into the conclusion of the first series, so I won't go deep into it. However, should this be your first exposure to Psychoville, as it was for me – you can pretty much safely guarantee you'll be hooked forever more.
She'll Change Again!
With references to a wide variety of classic horror movies, the Psychoville Halloween Special is truly a love letter to the genre. Dark comedy doesn't get much darker than this, and each story flows between genuine belly-laughter to spine-tingling terror. By using the already incredibly well defined characters established in the actual series, we can jump straight into the high concept tales and get on with what we're here to do – to be entertained.
The writing and performances by Reese and Steve are frustratingly good – and fans of black comedy should be flocking to their work. If you haven't already seen Psychoville and just fancy a fun story to watch on the lead up to Halloween – there's a lot worse you can do than jump in with this special episode.
Yours, A P Tyler