Don't go there, Sid. You're starting to sound like some Wes Carpenter flick or something.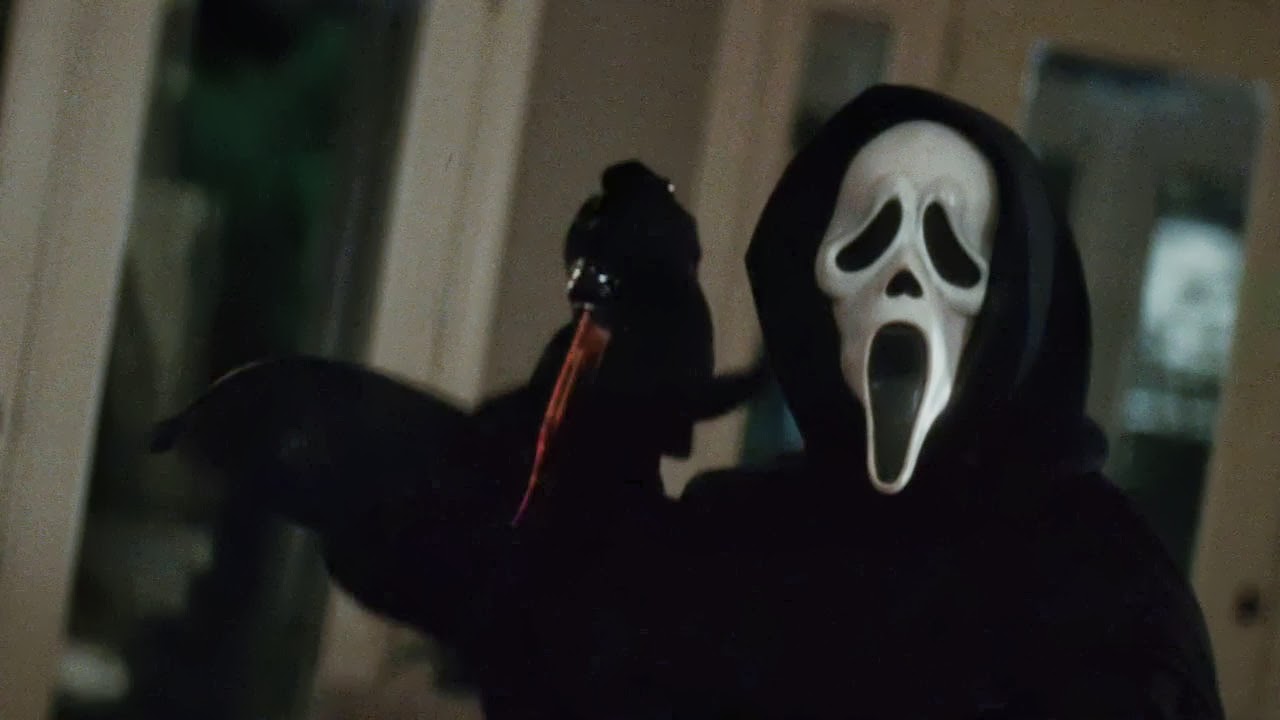 There are some films out there that are successful. There are also some films that don't quite do so well. Then you have films that not only shape the genre, but weave themselves into popular culture for an entire generation – maybe even two. It may sound like hyperbole, but Scream (1996) struck a chord with cinema audiences at the time in an unprecedented way – and, what's more, it still holds up to this day.
In fact, so many people know and love this film series that I was in two minds to even bother reviewing it for my 31 Days Of Horror. What more can I say, that hasn't been hashed out a thousand times before? Spoiler warning: I will add literally nothing to this debate. The only reason I even went for it is because I kinda fancied seeing it again, and it just so happens to be Liev Schreiber's birthday – who plays a background role in Scream, but plays a more prominent role in later films.
If you're still here after that award winning sales pitch, I suppose I'll mention some of the background to Scream before I launch into the review. Inspired by the news of the brutal real life murders by the Halloween-inspired murderer, the Gainesville Ripper, aspiring screenwriter Kevin Williamson penned the story under the working title, "Scary Movie." Dedicated to the horror movies he loved in his youth, the film was one that he felt it was a film that he wanted to watch – and that no one else was making.
Despite being told by his agent that the screenplay "wouldn't sell", the script sparked a bidding war that was eventually won by Dimension Films, who hired Wes Craven as the director and set about making the film, eventually retitling it Scream, named after the Michael Jackson song.
The movie then succeeded in breathing new life to the flagging horror genre, reaching financial and critical acclaim before reaching cult status – and remains a favourite for film fans worldwide. In short, Kevin Williamson must have thought he died and went to heaven, already. What a way to kickstart a career.
Yeah, Yeah. But What Happens?
Somewhere outside the fictional town of Woodsboro, California, in a RWPIRWH, high school student Casey Becker (Drew Barrymore) is preparing for a night in with some movies, when she receives a mysterious phone call. Initially flirtatious, the caller starts to get more and more insistent, finally becoming quite threatening after the caller lets slip that he, "wants to know who I'm looking at." Panicked and alone, Casey is eventually attacked in her home by the iconic GhostFace after a short pop quiz on horror movies – where a wrong answer may mean your death, or the death of a loved one.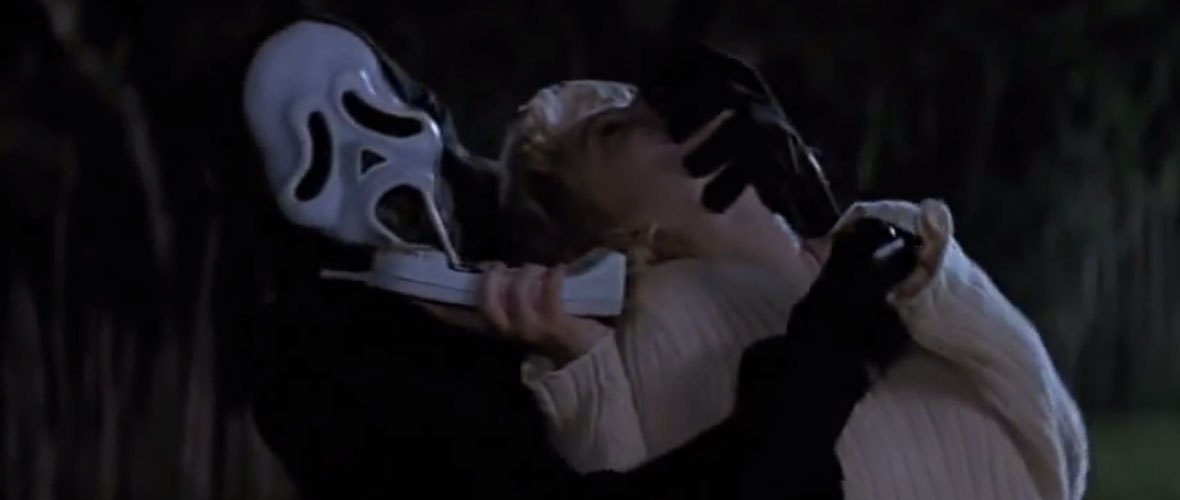 To cut a long story short, things don't go well for Casey. When the news reaches Casey's high school, the students and teachers are understandably concerned. One student in particular is particularly disturbed, one Sidney Prescott (Neve Campbell) who is struggling with the first anniversary of her mother's rape and murder at the supposed hands of Cotton Weary (Liev Schreiber) – a fact often repeated by the news media, particularly from reporter Gale Weathers (Courtney Cox), who simply won't let the subject rest.
Sidney quickly becomes the target of the unknown killer, and is attacked in her home. The blame quickly falls on her sinister-looking boyfriend Billy Loomis (Skeet Ulrich), and Sidney leaves her home to stay with her best friend Tatum (Rose McGowan) and her brother, Police Deputy Dewey Riley (David Arquette), whee Sidney continues to receive suspicious telephone calls from the unknown caller.
As the police investigation continues, the threat of a mysterious killer hangs heavily over the town – and soon suspicious fingers begin to get pointed in different directions. This eventually all comes to a head when Stu Macher (Matthew Lillard) throws a party after school is suspended. The whole class seemingly turns out and we begin to discover the truth – put lovingly into perspective by video-store nerd and horrorphile Randy Meeks (Jamie Kennedy).
The finale takes everything to the next level, with multiple killings, twists, turns and some wonderful special effects, all building to the final reveal of the killer and the terrifying thought that sometimes, just sometimes, we can all go a little mad…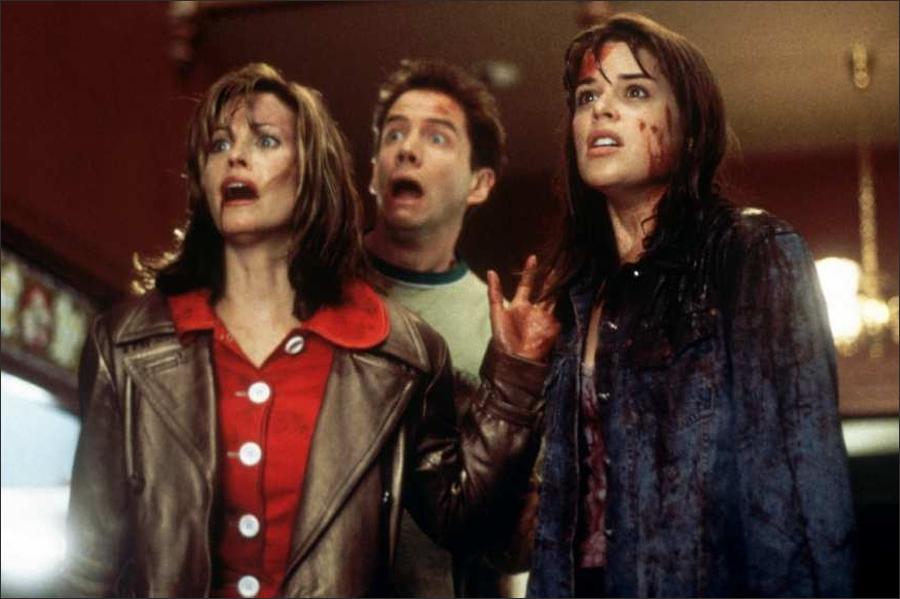 In Conclusion
It's hard to try and sell this film on its story, when it has become the quintessential self-referential golden child of teenage slasher flicks. Suffice to say, it is excellent, and still stands up to scrutiny 20 years on. I don't exactly have any evidence to support it, but I highly doubt the likes of Buffy The Vampire Slayer would have existed without Scream making huge waves in the mid-90s. Nor do I think slasher films would have survived this long without the sudden boost in popularity after this film's success.
Having been directed by Wes Craven, the film's visual style is absolutely nailed. It has the feel of an 80s horror, without the underwhelming effects or campy dialogue. It manages to elevate the platform, and look back at it with a wry smile. If someone tried to make this film today, I can guarantee it wouldn't have the same affection for the source material, nor the same level of humour.
Speaking of humour, if I had one issue, it would probably be that Scream may be a victim of its own success. There have now been so many parodies and tributes to this series, that I often find myself being quite distracted with one-liners popping into my head from films like Scary Movie (2000). It's by no mean's Scream's fault – but, man, those guys really managed to capture something about the genre that sticks in my head. Especially scenes like this:
Oh, well.
Go and watch Scream. It's incredible. If you haven't seen it already, it's on Amazon Prime right now. If you have seen it before, go and watch it again. It's great.
Yours, A P Tyler